Services
Hartford Physical Medicine believes in treating each patient with a comprehensive strategy involving medical and pain management, physical therapeutics, manual therapy and adjustments, and exercise. Patients no longer have to worry which type of doctor or facility they should go to. Being able to access World Class medical specialists and the diversity of Health Care Professionals makes Hartford Physical Medicine the premier choice when seeking professional help.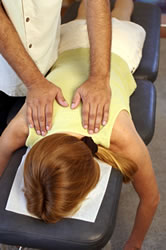 Our balance of traditional medicine and holistic treatment combined with sound medical knowledge ensure that you are in good hands.
From the convenience of on-site parking to providing immediate appointments for patients in pain. We are proud to offer the following services:
Physical Medicine and Rehabilitation
Chiropractic Adjustments
Nutritional and Exercise Counseling
Physical Therapy Modalities
X-Ray On Site
Impairment Assessment
We specialize in treating:
Carpal Tunnel Syndrome
Whiplash,
Sports Injuries,
Neck Pain
Work Injuries
Car Accident Injuries
Arthritis
Frozen shoulder
Hip pain
Pulled hamstrings
Radiating Arm and Leg Pain
Sprained Ankles
Rotator Cuff Tendonitis and Tears
Tennis Elbow
We specialize in healing injuries caused by automobile accidents, slip and fall accidents, sports injuries, and workplace injuries. We can help with arthritis and other degenerative conditions.